Keynote Speakers
Prof. Rama Chellappa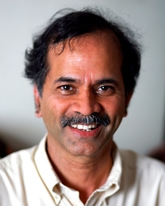 Minta Martin Professor of Engineering
Chair, Department of Electrical and Computer Engineering
University of Maryland, College Park
- Title of the talk:
"Deep Learning Networks for Computer Vision and Pattern Recognition"

- A summary of the talk:
Over the last five years or so, deep learning networks have produced impressive results for several computer vision and pattern recognition problems. In this talk, I will discuss recent developments in the design and application of deep learning networks for problems such as face detection, object detection/recognition and face verification/recognition. We will present a case study on unconstrained face verification and recognition highlighting the rapid progress that has been made in less than two years as well as discuss many remaining research challenges to be addressed.
- A short bio:
Prof. Rama Chellappa is a University Distinguished Professor and a Minta Martin Professor of Engineering and Chair of the ECE department at the University of Maryland. Prof. Chellappa received the K.S. Fu Prize from the International Association of Pattern Recognition (IAPR). He is a recipient of the Society, Technical Achievement and Meritorious Service Awards from the IEEE Signal Processing Society and four IBM Faculty Development Awards. He also received the Technical Achievement and Meritorious Service Awards from the IEEE Computer Society. At UMD, he received college and university level recognitions for research, teaching, innovation and mentoring of undergraduate students. In 2010, he was recognized as an Outstanding ECE by Purdue University. Prof. Chellappa served as the Editor-in-Chief of PAMI. He is a Golden Core Member of the IEEE Computer Society, served as a Distinguished Lecturer of the IEEE Signal Processing Society and as the President of IEEE Biometrics Council. He is a Fellow of IEEE, IAPR, OSA, AAAS, ACM and AAAI and holds five patents.
Prof. Maja Pantic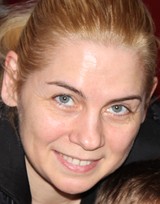 Professor of Affective and Behavioral Computing
Imperial College London
University of Twente
- Title of the talk:
"Automatic Face Analysis"

- A summary of the talk:
Human face is our preeminent means to identify the other members of our species and communicate affective and social signals. This talk summarises a number of aspects of human face and facial behavior and how they can be automatically sensed and analysed by computers. Past research in the field conducted by the iBUG group at Imperial College London and how far are we from enabling computers to detect, track and recognise human face and facial expressions is discussed in detail. More info on the work of the iBUG group can be found at http://ibug.doc.ic.ac.uk/home. For databases and software solutions to various problems in the field of automatic facial expression analysis, see http://ibug.doc.ic.ac.uk/resources. More info on Maja Pantic can be found at http://ibug.doc.ic.ac.uk/~maja/
- A short bio:
Maja Pantic obtained her PhD degree in computer science in 2001 from Delft University of Technology, the Netherlands. Until 2005, she was an Assistant/ Associate Professor at Delft University of Technology. In 2006, she joined the Imperial College London, Department of Computing, UK, where she is Professor of Affective & Behavioural Computing and the Head of the iBUG group, working on machine analysis of human non-verbal behaviour. From November 2006, she also holds an appointment as the Professor of Affective & Behavioural Computing at the University of Twente, the Netherlands.

Prof. Pantic is one of the world's leading experts in the research on machine understanding of human behavior including vision-based detection, tracking, and analysis of human behavioral cues like facial expressions and body gestures, and multimodal analysis of human behaviors like laughter, social signals, and affective states. In 2011, Prof. Pantic received BCS Roger Needham Award, awarded annually to a UK based researcher for a distinguished research contribution in computer science within ten years of their PhD. She is an IEEE Fellow.

See also: http://ibug.doc.ic.ac.uk/~maja/
Prof. Karen Egiazarian



P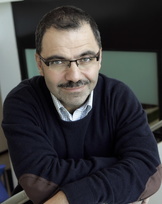 rofessor
Department of Signal Processing
Tampere University of Technology
CEO, Noiseless Imaging Oy (Finland)
- Title of the talk:
Nonlocal image filtering in image and video restoration
- A summary of the talk:
During the last decade, nonlocal image filters have played an important role in various image and video processing applications. The most known among them are nonlocal means (NLM) and block matching 3D (BM3D) filters. In this talk, an overview of nonlocal filters, including NLM, BM3D and its generalizations, will be given. Their applications in image and video denoising, deblurring, super-resolution, and compressed sensing recovery will be discussed. The related work, demos and implementations can be found in http://www.cs.tut.fi/~foi/GCF-BM3D/.

- A short bio:
Professor Karen O. Egiazarian (Eguiazarian) has received M.Sc. in mathematics from Yerevan State University, Armenia, in 1981, Ph.D. degree in physics and mathematics from Moscow State University, Russia, in 1986, and Doctor of Technology degree from Tampere University of Technology, Finland, in 1994. In 2015 he has been awarded the Honorary Doctoral degree from Don State Technical University (Rostov-Don, Russia).
Dr. Egiazarian is a co-founder and CEO of Noiseless Imaging Oy (Ltd), Tampere University of Technology spin-off company.
He is a Professor at Signal Processing Department, Tampere University of Technology, Tampere, Finland, leading 'Computational Imaging' group and a Docent in the Department of Information Technology, University of Jyväskyla, Finland. His main interests are in the field of computational imaging, compressed sensing, efficient signal processing algorithms, image/video restoration and compression. Dr. Egiazarian has published about 650 refereed journal and conference articles, books and patents in these fields. He is an Editor-in-Chief of Journal of Electronic Imaging (SPIE), Associate Editor of IEEE Transactions of Image Processing, and Member of the DSP Technical Committee of the IEEE Circuits and Systems Society.